My sweet baby Claire will be four months in just a few days. I feel like she was just born but also like she's always been part of our family. I'm so glad she's ours! Now that she's out of the newborn stage and I've had some time to reflect on the past few months, I wanted to share a list of my favorite newborn products. I hope this list is helpful for new parents as you make your baby registry and finish setting up your nursery. I remember how overwhelmed I felt while researching ALL the baby items. There is so. much. stuff. out there marketed towards new parents. My best advice would be to remember that your baby needs just a few basics, everything else is just extra. Although the extra stuff definitely helps. 🙂 Here's a list of my favorite newborn products that I would definitely recommend to any new parent.
Evenflo Pivot Xpand single-to-double stroller with carseat ($319) – When I was pregnant, I spent way too much time online trying to find the perfect double stroller. There are so many options and it can be stressful trying to pick the best one, especially since they can be so expensive. I heard so many wonderful things about the Uppababy Vista but it has a huge price tag and we didn't want to spend that much on a stroller. After lots of research, we decided to go with the Evenflo pivot xpand double stroller and we've been so happy with it! The car seat feels so solid and safe. The stroller is easy to push and has a huge basket on the bottom. We got a toddler seat for James and it's so easy to change the seating. It's easy to fold and not too heavy. I'm able to lift it and put it in the trunk of our SUV without a problem. I'm really happy with this set!
Boppy newborn lounger ($33) – I LOVE this baby pillow! We used it everyday for both James and Claire. Baby is comfortable and secure. It's an easy place to put baby whenever you need to do dishes, shower, cook, work on the computer, etc. Claire is almost 4 months old and she still loves the pillow but she's starting to scoot backwards, so she'll probably be done with this soon.
Carters Zip-up cotton sleepers – ZIPPERS all day!! No buttons/snaps on pajamas. Seriously… zippers are so much easier when you're half asleep and changing diapers in the middle of the night. These sleepers by Carters are my favorite. They are soft and wash well.
Swaddle Me velcro swaddle – I love these velcro swaddles because they are so user friendly. I tuck Claire's legs in and then close the 'wings' and it's secured with velcro. We swaddled her with arms in for about 8 weeks and then took her arms out. We are still using these swaddles (the next size up) at 16 weeks.
HALO Bassinest Swivel Sleeper ($279) – James slept in the (now recalled) rock and play when he was a newborn. He slept well in it but due to the recall, we got rid of ours and needed a different option for Claire to sleep in. I asked for ideas on my instagram story and I'm SO thankful that my friend Kate offered to lend us her HALO bassinest! It's been perfect! It's a firm, solid, safe space. It has a few extras but we haven't used them, like a nightlight, sounds, timer, etc. Claire is still sleeping in the HALO for naps and nighttime but as you can see on the right picture, she's growing quickly! We'll probably move her to the mini crib when she turns 5 months old.
Puj infant in-sink bathtub ($45) – When James was a baby, we used a small plastic bathtub that we put on our kitchen counter. It worked well but now that he's in the big bathtub, I wanted an option to bathe Claire in the same room. My sweet friend Ondrea gave us this puj bathtub to try. I had never heard of it. It's so great! It's soft, the bottom folds to fit in the sink and then opens up to lay flat to dry. Claire is safe and comfortable and loves bath time every time! Also, look at her growth in just three months! Baby girl is chunking up!
Munchkin waterproof changing pad liners ($9.47 for 3) – These are so helpful to keep your changing pad clean, especially during blowouts. Put one of these on your changing pad before a diaper change and then toss it in the wash. Or you can toss it in the trash if it's a really big blow out… been there, done that!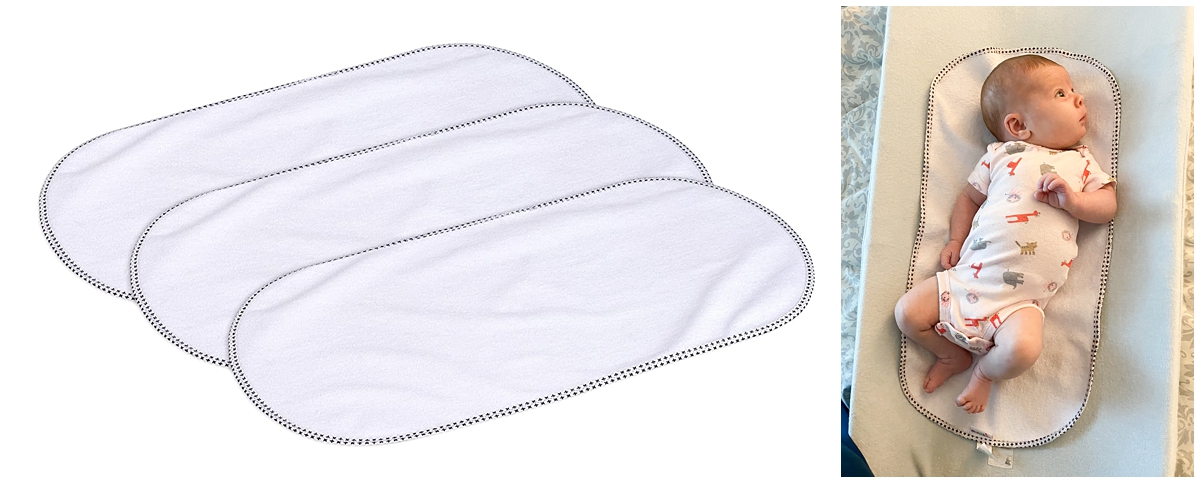 Fisher Price Infant to Toddler Rocker ($34.70) – We used this rocker chair with both James and Claire and I still love it. It's an affordable, safe, moveable option to put baby whenever you need your hands. The play bar on top is easily removable and there are two recline options. It can also be a rocker or a chair by changing the base. We don't have a baby swing so this is our go-to when we need to put Claire down.
Stretchy car seat canopy and nursing cover – My friend Nicole gave us this car seat canopy. I love the beautiful watercolor floral design! I used it a lot as a car seat cover on our newborn walks since Claire was born in January and it was chilly outside. I also used it to keep her cozy and contained when I had her in the cart while grocery shopping to keep germs away. It also makes a great nursing cover!
Baby crinkle sensory squares ($6.99 for 2) – My sister in law Katie sent these perfect crinkle squares and Claire is a fan! They are soft and can be chewed on and make a crinkly sound that keeps baby entertained.
Munchkin step diaper pail ($64.99) – You need somewhere to put the stinky diapers!
Rocking chair glider – We bought ours at Babies R Us before James was born and it's worked well for us. I definitely recommend a comfortable rocking chair/glider with an ottoman to put your feet up while feeding your sweet little babe.
Nightlight ($19.99) – A soft, dimmable light to put near your rocking chair and/or changing table is so helpful!
Video baby monitor – I loved having a video baby monitor. There are sooo many options out there and this one probably isn't the best (it has a short range once you walk outside) but it's worked for us and it's an affordable option. We used this with baby James and I was able to buy a second camera for Claire. Both cameras pair with one monitor and it alternates with both rooms. It also has an eco mode where it goes to sleep but wakes up whenever there's a sound in the room.
White noise machine – Definitely recommend a sound machine for babies! We play the ocean sound for a calm, relaxing environment and it helps block out sound from the rest of the house. I make it louder during the day when Claire naps and we're moving around the house but then lower at night so it's just a light background sound. James is almost three and we still use this when he naps/sleeps.
Dresser drawer organizers – I love these drawer organizers to hold and separate pajamas, onesies, pants, shorts, socks, etc. It's a simple, affordable product to keep you organized.
Pearhead First 5 years Baby book ($17.29) – This is a great baby book! I have it for both James and Claire (they have different color options). It's mostly questions/pages about the baby but then it has a spread for each birthday to five years old.
Diaper bag backpack ($33.96) – We had a great diaper backpack bag with James but after 2.5 years, it got old and dirty. The company unfortunately stopped making them but I knew I wanted another backpack. I found this one on Amazon and it's been great! It's sturdy, holds a ton and has a bunch of pockets, including two bottle pockets on the side (perfect for our water bottles).
Haakaa hand breast pump ($12.94) – If you're a breastfeeding mama, you will want this! It's a suction silicone breast pump that catches letdown milk on the other breast when you're nursing. It's one piece of silicone and it can catch so much milk. It's so easy!! I exclusively breastfeed Claire and am sometimes engorged in the morning (depending how long she slept), so this handy little tool is so helpful to relieve pressure and it catches milk, instead of it leaking into breast pads or into your bra. And it's so cheap and so easy to clean. Get yourself a haakaa 🙂
Aveeno baby shampoo and soap ($5.99 12oz) – This soap/shampoo has been a winner for both James and Claire. Smells good, gentle on their eyes and their hair is soo soft afterwards.
Safety 1st light fingernail clippers – These clippers have a light inside which helps with the teeny baby fingernails! I sit Claire in my lap and clip her fingernails about once a week. They grow so quickly and they can be sharp! This has been so helpful.
Mommy's Bliss Vitamin D supplement drops – Breastmilk is ahhh-mazing but it lacks vitamin D. These drops are easy to use and Claire doesn't seem to notice it.
Well, those are my favorite newborn products! I don't have a few of the "must haves" on other registry lists, things like pacifiers, a baby wrap (I only used it maybe three times in three months but some moms use it every day!), various bottles, diaper cream, a baby swing, etc. I just found they weren't essential or needed for our family. If you're a first time parent or if you're looking for a gift for new parents, I hope this list was helpful! Having a newborn can be challenging and exhausting but these products definitely helped make those early months a little easier. Here's my sweet Claire bear at her newborn session (by my talented friend Laura Foote) when she was only one week old. Crazy that she's already almost 4 months. Time flies!!