As I write this post, our living room is full of moving boxes. Our time in NYC has come to an end. Tear. Sad face. It has gone so fast but it has truly been incredible. In the middle of November, I wrote a post about the experiences David and I have had while we are living in NYC. We moved up here in August for David's third rotation in his leadership program with Nielsen. The first half of our time here consisted of a lot of awesome weekend trips and outdoor activities but as we transitioned into winter, we stayed more local and explored more of the indoor things of the city! This second recap shows some of the memorable things we did from November until the end of January. We have one day left here and then we are going back to Florida for two weeks (yay family!! and a wedding!!). Then on Valentine's Day (awww), we are saying "see ya" to the good ol' USA and are heading to MILAN!
*The photos below are all iPhone pictures — no fancy, professional pictures below. Just fun adventures!
Follow along on Instagram — Click Here! 
————
 Macy's Thanksgiving Parade! We got up verrrry early and got a great spot on Central Park West. It was a beautiful day!
This year, we celebrated our first "Friendsgiving"! We ordered a prepared meal from Whole Foods and had a yummy dinner with friends.

It snowed on Thanksgiving! 

We explored Hoboken and visited Carlo's Bake Shop, aka: The Cake Boss. The cheesecake and cannoli were delish!
David found tickets to a concert at Carnegie Hall for only $5! We saw an insanely talented orchestra of Brazilian teenagers.

Our third set of visitors came in mid December, the Steels! We love them so much. It was such a fun weekend exploring the city together!
We met up with more friends who were visiting the city and enjoyed a very late night/early morning at a rooftop bar overlooking the Empire!

Girls Night at Butterlane! We learned how to make seriously rich and delicious cupcakes and frostings.
My school hosted a Christmas party at a beautiful restaurant on the Jersey City Waterfront with a gorgeous skyline view.
We explored the Metropolitan Museum of Art with our last set of visitors, Katie and Nic!
Celebrating an early Christmas with Katie and Nic! Newspaper wrapping paper for the win.

We bought cannoli at the two places in Little Italy that claimed to have THE BEST cannolis. We had a taste test party at home!


On Christmas Day, we woke up early to Facetime with our families and then we went ice skating in Bryant Park and saw the Christmas Spectacular at Radio City! The Rockettes were amazing.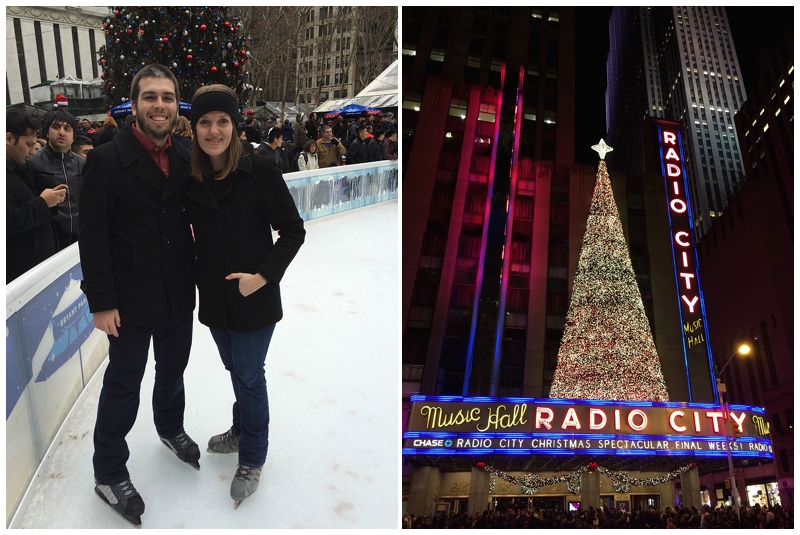 The weekend after Christmas, we took a mini road trip to Washington DC! We drove through Lancaster, Pennsylvania on the way home to see Amish country.

We got to spend the day with David's childhood friend, Tim and his beautiful wife Courtney, when they came to visit NYC!

We watched a Knicks basketball game in a Nielsen suite at Madison Square Garden. It was still fun even with a loss.


My turn to host Girls Night…so The Bachelor, pizza and wine it is!! So much fun with these girls.

Twice a year, NYC has Broadway week where you can buy BOGO tickets for certain shows. We snagged tickets to see the Lion King. It was so good!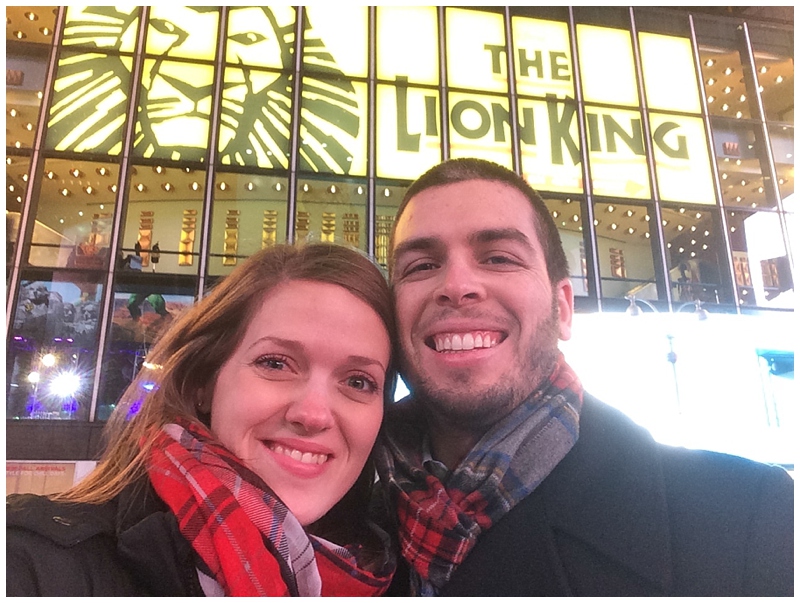 Last week, we hopped on a plane headed to Houston to see our friend Nelson marry his beautiful bride, Holly. It was a beautiful wedding and a wonderful reunion weekend with our sweet friends!
We ended our time up in the Big Apple with the (underwhelming) Blizzard of 2015. We were hoping for more snow but we made our own fun playing in the fresh snow that evening. 

That's it! It's been a wonderful, quick, exciting six months and I'm so glad that my hubby and I could experience this together. Thanks for following along!