You guys. It's been more than three months since David and I left Florida! I'm experiencing COLD WEATHER all day, every day right now. It's blowing my mind! Not hating it…. yet. We moved up to the NYC area in mid-August for David's third rotation in his leadership program with Nielsen. We are so fortunate to be on this adventure and we have been taking advantage of being so close to so many beautiful sights. I wanted to share some of our highlights of trips, sight-seeing, and everyday living up here. We are here until the end of January and then back to Florida for two weeks and then our next adventure begins (and it's a big one)!!!
*The photos below are all iPhone pictures — no fancy, professional pictures below. Just fun adventures. 🙂
Follow along on Instagram — click here! 
————
Enjoying an adult beverage at MCO waiting for my flight, reunion with my hubs at the Newark airport, SO many buttons in the elevator in our building!
Our first day in the city, walking the High Line! – We packed our lives into these three boxes and the iMac box for the next 5 months
The GORGEOUS NYC skyline view from the Jersey City waterfront. We love to run along this path.
Emily from Emily Katharine Photography had a wedding nearby and we got to meet her and Thomas for brunch! LOVE! 
David making breakfast in our beautiful kitchen – We have a full size gym just a few stories below our apartment. Ohhh yeah
Yankees game!  – We aren't big baseball fans but this was a must-do.
Our first road trip: Atlantic City! We gambled all of two dollars and lost it all. Oops!
My 25th Birthday! We both had to work during the day and then explored Chelsea Market for dinner. So good! 
For Labor Day weekend/ my Birthday, we took a trip up to Lake Placid, New York. We toured the Olympic sites and went on a beautiful hike!
While in upstate New York, we took a trip over to Vermont to tour the Ben and Jerry's factory. Such a fun place!
On a HOT September day, we joined friends at Smorgasburg in Brooklyn for some creative and tasty treats.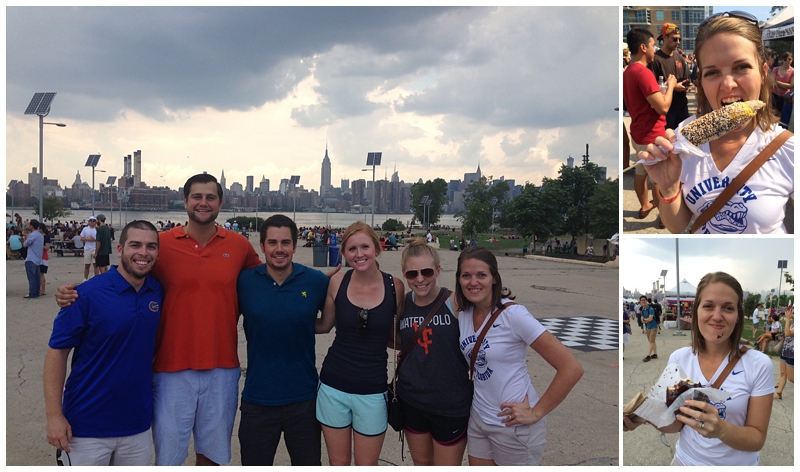 Took a drive over to Liberty State Park for a picnic and to practice handstands with Lady Liberty, of course.
The 9/11 Memorial was filled with people and beautiful flowers on September 11th.
Our longest road trip was to Niagara Falls! Seven hours in the car (each way) was more than worth it. These waterfalls are INSANE.
We put on a poncho and some water shoes and got SO close to the water on the Cave of the Winds trip. This was my favorite thing!
We got free tickets to the Global Citizen Festival in Central Park and saw Carrie Underwood, No Doubt, and Jay Z! 
We met my cousin and her love in Long Island for their engagement session and then dinner afterwards! 
Next trip: Boston! We toured the Sam Adams brewery and enjoyed some fresh lobster, walked the Freedom Trail and toured Harvard.
Next trip was to a very popular farm in west New Jersey for apple and pumpkin picking and then to Philadelphia for a day of sight-seeing! 
Our first visitors! David's younger sister Emily and her boyfriend, Charles flew in for a weekend of NYC adventures. Loved having them here!
David's mom and youngest sister, Hannah, came to visit to explore the city! We ate thai in Chelsea, enjoyed the skyline and saw Phantom on Broadway!
One of the coolest things was the NYC Marathon. Thousands of determined athletes running across the city with a common goal was so inspiring!
Tickets to the Daily Show with John Stewart! The celeb guest was my ultimate celeb crush: Jake Gyllenhaal! 
Shared a delicious pizza at Grimaldi's pizzeria in Brooklyn. The line was wrapped around the block!
Hiking day trip to Bear Mountain with perfect weather.
Tickets to the Tonight Show Taping with Jimmy Fallon! We got FRONT ROW seats. Ahh it was so cool! We saw Liam Hemsworth and Katherine Heigl! 
UCB Comedy Show in Chelsea with Nielsen friends! 
This past weekend, we went to the Statue of Liberty and climbed the teeny tiny stairs all the way to her crown! Such a cool (and scary) experience!
More to come!!!