Today's blog post is going to be a little different than usual. You won't see pretty, romantic images today. Instead, I'm going to share a little more about one of my other passions: real food!! Real food is natural, unprocessed, whole food. My diet has changed drastically over the past few years as I've transitioned into eating more real food. When David and I first got married, you would have found hot dogs, brightly colored fruit snacks, frozen skillet meals, sugary cereals, and cheap burger patties in our kitchen. We shopped for convenience and on a budget and didn't think much about what we ate. Now, we are eating a pescatarian diet with mostly real food and no fast food or soda. I used to look at nutrition labels to decide if I wanted to buy the product but now I focus on the ingredients. If it has some weird name that I can't read, I don't buy it. And unfortunately, most grocery products have a crazy long list of unknown ingredients. Yes, it's been a challenge and it is slightly more expensive but we feel SO much better than before. I have more energy, great digestion, and no stomach issues.
During our transition to eating real food, I found Lisa Leake's blog: 100 Days of Real Food. She fed her family a "normal" diet with lots of processed items until she read the book In Defense of Food by Michael Pollan (which I highly recommend!). Immediately, she realized that she wanted to feed her family REAL food, not the fake crap created in a lab. They took on a 100 Day challenge where they ONLY ate real food for 100 days… no fast food, no artificial sweeteners, no white flour, etc. This included her two young daughters, herself, and her traveling husband. That's a huge challenge!! Lisa recently released a new real food guide and cookbook. The first part describes their challenge, what they learned, how they grew, budget guides, meal plans, and how to help others. The second half features 100 recipes with real, natural ingredients. I love how she includes 'everyday' foods like tacos, pizza, and ice cream. You can still eat your favorite meals while using real ingredients! Another great feature is that most of her recipes can be altered to be vegetarian, gluten-free, and freezer-friendly.
I'm sharing this with you because I think eating a real food diet will drastically change your life. You will feel better, have more energy, cleanse your body, and protect yourself from future health problems. Lisa sent me a signed copy of her book in exchange for a review on my blog. My simple review is YES, get this book! I love and believe in this book so much that I decided to give away TWO copies to one lucky blog reader/facebook follower. I will send you two books and you get to keep one and give one! Keep one for yourself and give one to a family member, friend, co-worker, anyone who you think will benefit! To enter the giveaway, you can do a few things. For each comment on the blog, each comment on the facebook post (only 1 comment per person will count) and for every share on the facebook post, your name will be entered into a pot. I would love for you to comment who you would share your extra book with! On Tuesday, September 2nd, I will write down all the names and pull out 1 winner. That winner will receive two copies of the 100 Days of Real Food Cookbook! Remember, one to keep and one to share.
When I received the book, I tagged all of the recipes that I want to try ASAP! I made the Shortcut Eggplant Parmesan for dinner last night and it was so yummy! This morning, I baked the Cinnamon-Raisin Quick Bread and David repeatedly said "it smells so good!" while the bread was baking in the oven. Both recipes were easy to follow and I had most of the ingredients already in the fridge or pantry! In fact, most of the recipes in this book use ingredients that are easy to find and are common staples in most homes. Check out a few photos from inside the book and my cooking of these delish recipes: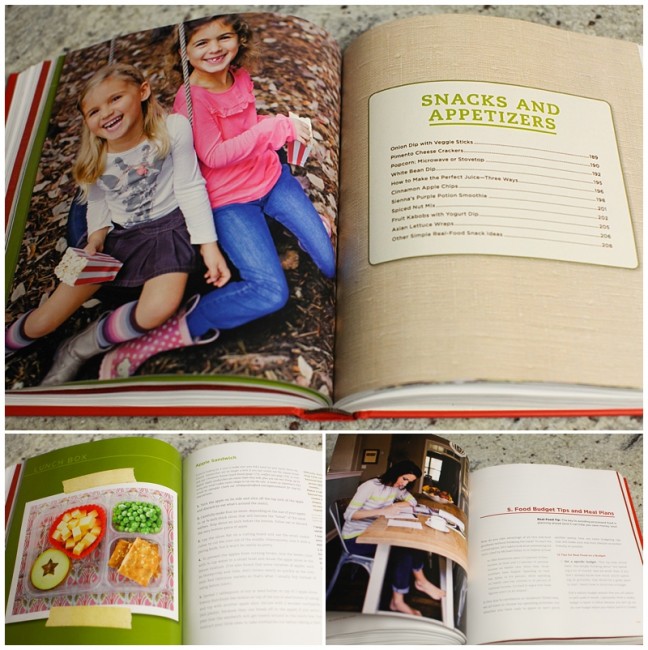 Remember to comment on this blog post, the facebook giveway post, and share that facebook post to be entered into the giveaway! One winner will be chosen on September 2nd.