"I'm sooo excited! I need more Tampa friends… and they are photographers?! This is perfect!!!" Those were my words as David and I drove to meet Emily and Thomas for brunch at their place a few weeks ago. Emily and Thomas are young, beautiful, talented photographers, and so in love!! Our morning brunch date quickly turned into lunch and a lovely afternoon talking photography tips, tricks, and lessons learned. As David and I drove away, I said "My heart is so happy. They are going to be our new best friends!" and…. that's exactly what happened. 🙂 Emily and I text each other all the time and somehow during our conversations, we came up with the brilliant idea to style a photo shoot together and use each other as models!  The best part was Emily said she would let me use her Contax film camera!! I LOVE the look of film. It is so soft and dreamy. The colors are so lovely. I love digital photos but I was very excited to shoot film!
The morning of our styled shoot came and it was a very warm, humid day at Philippe Park in west Tampa. We brought all of our props: lemons, flower crown, sunflowers, lemonade, old books, mason jars, a blueberry lemon cake and so much more. We had such a great time photographing each other (and our boys!). I learned a lot about film…. the camera body is hefty, the manual focus ring can be tricky, and mostly, that I had to be intentional on every shot. Each click of the shutter costs money and uses up the roll, so I had to create the exact image that I wanted. This was definitely a learning experience and I'm excited to try again with film! Enjoy our styled shoot! (All of the photos below were captured on a Contax 645 film camera and are completely untouched. These are the original scans.)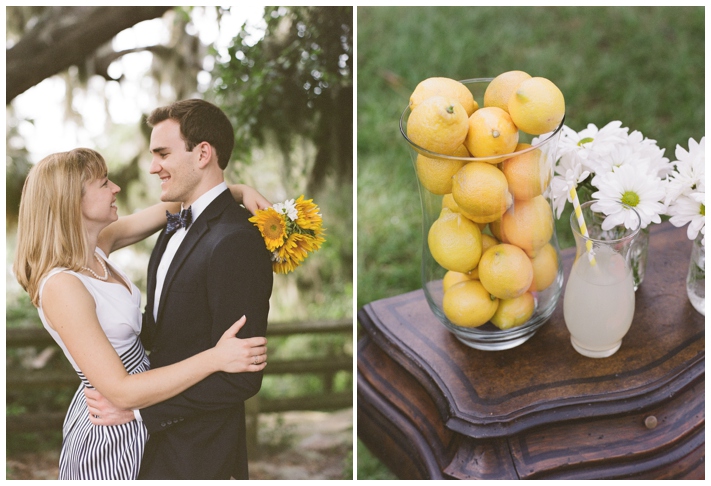 And one of us together 🙂 Just two girls and their cameras, looking forward to the opportunities that will come…
 Click Here to see Emily's blog post on our shoot! She is awesome!!